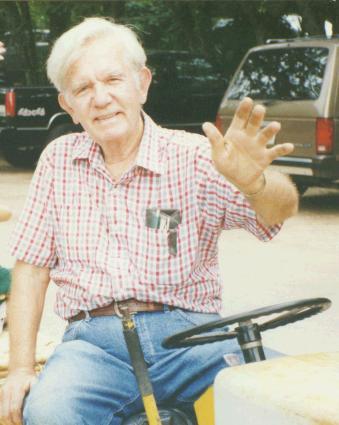 Stanley Massie Depwe, long-time Austin photographer and co-owner and operator of West Lake Beach, died peacefully in Austin on December 15, 2006. Born in Orange, Texas, on January 2, 1916, he was the older of two sons of Mattie Dupont Depwe, a homemaker, and "Jake" Silas M. Depwe, Jr., a two-term mayor and businessman in Orange.
After graduating from Orange High, Stanley came to Austin and attended UT with his younger brother. Stanley served briefly in the Army Air Corps. Early in his life, he discovered a passion for photography, which led to work in camera shops during college and becoming a party photographer for fraternities, sororities, and other UT events. During one of these occasions Stanley met the love of his life, Dorothy McRae. They married on May 29, 1953. Stanley started his own business, working as a professional wedding photographer from the 1950s through the early 1980s, serving two generations of Austin area customers. Stanley and Dorothy lived in West Lake Hills all their married life, where they raised their sons, David and Robert, and were active in Westlake Hills Presbyterian Church and the Eanes History Center.
Stanley's other career was his beloved West Lake Beach, a marina and picnic area Stanley and Dorothy built on the west bank of lower Lake Austin in the 1950s, along with Dorothy's brother, Dan McRae and his wife Sadie. He loved his role as guardian, whether hauling guests' belongings on his Cub Cadet tractor and trailer down to the beach area for "payment" in brownies, helping the children fish, building the picnic tables, repairing the barbecue pits, or simply preparing for the day's activities. Always concerned with the safety and peace of mind of the Beach's guests, Stanley kept an eye on the swimmers and tended the guests' boats in the marina.
Stanley, Dorothy, and other family at West Lake Beach welcomed innumerable regulars over the years, including celebrities, reunion groups, and church and school gatherings, which Stanley especially loved. It was also the site for countless informal reunions of their own family, and well into Stanley's later years, West Lake Beach was still his favorite place to be, relaxing at a picnic table and enjoying the beauty of his surroundings.
Stanley was preceded in death by his brother Willard, and wife Dorothy. He is survived by his son David Depwe and wife Andrea and grandchildren MacKenzie and Andrew, also as his son Robert Depwe and wife Karen and grandchildren Alicia, Elizabeth and Jake, as well as brother in-laws, sisters in-laws, nieces and nephews, and many many friends.
Services will be held at Harrell Funeral Home, 4435 Frontier Trail, Austin, TX 78745, 512-443-1366 on Tuesday, December 19, 2006 at 2pm. Memorial contributions can be made to The Eanes History Center or the Westbank Community Library. For more information about Stanley and addresses for memorials, please visit www.WestLakeBeach.com.